Twini Primary School also brings back a lot of memories. When I started at Umbogintwini Government School (as it was known) in 1959 Mr Stander was Headmaster.  He must have been helping out as beloved "Pop" Fearon was Headmaster for the rest of my time until the end of 1965. Mr Deighton was then the headmaster after my time. The school initially went to standard 6 (grade 8) before changing to standard 5 (grade 7).  Before South Africa became a republic on 31 May 1961, traditional English activities such as maypole dancing were enjoyed at the school. In those early days we were even supplied with milk by the school which was even delivered by a helicopter on one occasion much to the absolute amazement of all. The main playing field, on the south side and below of these original school buildings, had only been excavated around 1960. The concrete footpath, to the footbridge over the N2 at the southern end of the school field, provided a great spot for billy cart runs and skateboarding. A lovely amphitheatre had also been made in a clearing in the thick tropical bush across the road from the main entry to the school. A couch grass area sloped down to the near level stage with freshly cut tree branches installed vertically to form a 'curtain' from behind which we kids would make our entry onto the stage. Shows were usually put on at night with our parents sitting on the grass slope and some lights strung up around the place to provide sufficient light for all concerned. Singing classes in about Standard 4 included Molly Malone (alive alive oh, singing cockles and mussels), It's a Long Way to Tipperary, Loch Lomond (you take the high road and I'll take the low road), Waltzing Matilda etc.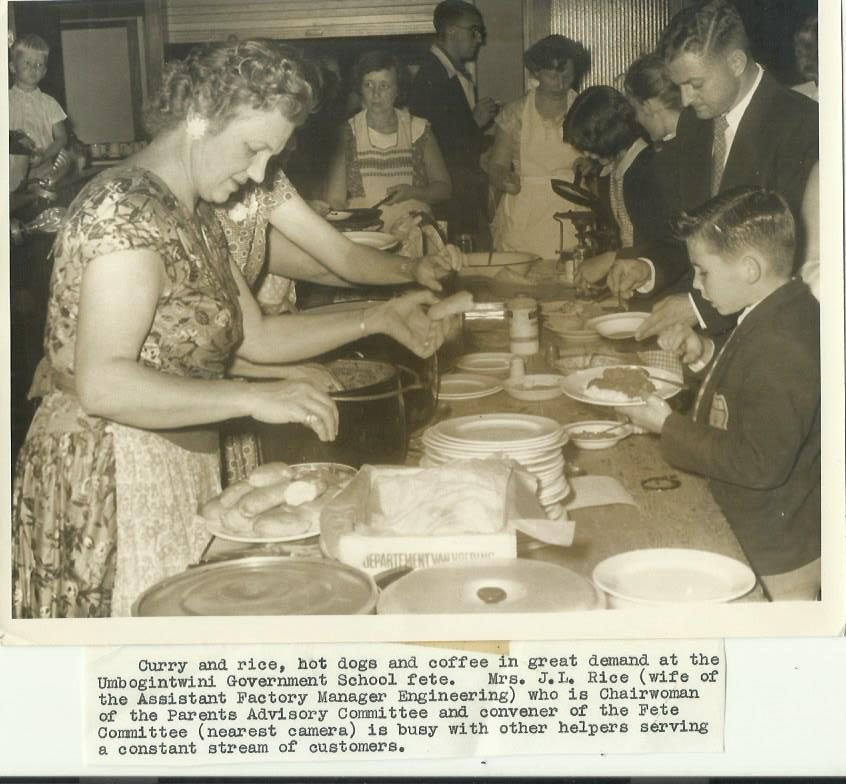 Reference: Peter Raath Collection
Circa 1960 photo showing young Peter Raath. Does anybody recognise the other adults in the picture?
The boys would play soccer or marbles and do other things before school and in the morning and the main lunch time breaks. These activities were on the top field between the school buildings and the tennis court, cricket pitch and groundsman's residence. I and many others used to run or ride our bikes to and from home during the main lunch break. During one of our soccer games before school the school bully by the nickname of "Fatty" would get a long piece of rope and with one of his henchmen at the other end would pull the rope tight and run across the field to mow down as many as possible. On another occasion "Fatty" brought a Gecado 23 air gun to school and again, during a pre-school soccer game, used green lantana berries as ammunition to fire at whoever was within range. I believe "Fatty" subsequently mysteriously left the school! When we found out that someone had the words to "Ag Pleez Daddy" we all got to school early and gathered in the assembly covered area to copy down the words.

Reference: South Coast Sun, 3 July 2008
Mr Z. de Beer Stander

Reference: Kathleen Tubb Collection
Mr A.C. "Pop" Fearon

Mrs Gardiner, Miss Gibson, Miss Pascoe and Miss Cooke were some of my teachers. Miss Cooke, who was my Standard 5 teacher and close to retirement, was an inspiration when telling us about her travels in Europe, all by mail ship in those days. I very clearly remember Miss Cooke taking our class down to the sports field on 11 November 1965 when we only had a few weeks left in junior school. An SAA Boeing 727 flew over on its final approaches to Louis Both airport when Miss Cooke told us that Ian Smith had declared UDI (Unilateral Declaration of Independence) for Rhodesia. Miss Cooke went on to explain what it meant and also to provide advice for our futures when we entered the big pond of high school.  Miss Cooke, who started her teaching career at Pingo Primary before retiring there and going to Europe, came out of retirement to again teach but this time at Twini Primary.
On the sports field it was usually a tussle between Robin from Chamberlain Road, Roderick from Athlone Park and me for the high jump title, also between Peter and Ian from Athlone Park and me for the 100 yards race.
On one occasion with my desk next to the south facing window in Standard 5, I spotted a sand snake coming along the edge of the block. I immediately jumped out the window to catch the snake much to the horror of Miss Cooke and a lot of the pupils. That otherwise made me so popular that classmate Martin, who lived down the road from me, was so impressed that he even gave me a lift home for lunch on his coveted new three speed bike. Martin was amazingly knowledgeable for our age group, regularly giving me updates on how Cassius Clay (Muhammad Ali) was doing when fighting Sonny Liston, as well as the development progress of the Concorde airliner and TSR2 spy plane and much more. Anyway good cricket games were also had at Martin's place with his brother John and other neighbours including Richard.
'Yokkie' another school friend from Reservoir Rise in Athlone Park invited me to his place one afternoon to see his Dad's Chinchillas, i.e. nocturnal rabbit-like animals that were in big demand for their pelts. After that we went along the road to look out to sea to see the Windsor Castle mail ship on its trip to Southampton via Cape Town. That lovely ship was not far offshore after leaving Durban on Thursdays for its run every two weeks to England.  There are some great pictures, and even a You-Tube clip, of this ship online.
Twini school received a number of international pupils during my time. They came from Rhodesia (Zimbabwe), Zambia, Mauritius, England and Holland. One of the girls in our Standard 5 class was Mary, whose family I recall had arrived from Kenya following the Mau Mau crisis. Her friends included Ann and one of the Karens in our class who were also new arrivals at the school.
The well known singer and writer Penelope Jane Dunlop (AKA PJ Powers) states in her book "Here I am" that she went to Twini school before she became a singer. She mentions having lived at 33 Churchill Road Umbogintwini (actually Athlone Park) and winning Eisteddfod and tap and modern dancing competitions at the school.  I did not achieve any dizzying heights at primary school but did manage to get the woodwork prize in standard 5 at the school prizegiving at the Jubilee Hall. Penny S. and Corinne H. were the bright sparks in my Standard 5 class. My Twini Primary motto "Aim High", my Kingsway High motto "Ut Prosim" (that I may serve) and my air force motto "Per Aspera ad Astra" (through hardship to the stars) have however kept me on the straight and narrow!
We had three Miss South Africas from our area. Disa Duvenstein from Athlone Park was the winner in the 1967 competition. I am not sure whether Disa went to Twini School however her brother went to the school in my time. Mr Duivestein was also well known in the area for his attempts, with other local businessmen, to locate a treasure ship off the Wild Coast in Pondoland where gold coins had been found along the coastline. I can't recall which ship it was, possibly the 1554 Portuguese Sao Bento or 1782 British Grosvenor.