The sports field also holds good memories where the annual factory sports was held. In addition to the usual track events, there were traditional events such as the greasy pole, i.e. a 20 foot or so timber telephone pole that had been greased up with a coconut hanging at the top. The first man to the top to retrieve the coconut received a prize. The guys tried all sorts of tactics to reduce the effects of the grease such as removing their shirts to use as rolled up grease catchers on the way up. A bloke by the name of Bevis was unbelievable as he usually won the competition. Having sack fights on a horizontal pole on a timber frame and coconut shies were other events. The announcer for the day was usually Mr Bob Hann, the chemist at the hospital across the road in real life. At one of the annual sports days we were given an amazing show with about 30 Zulu men dressed up in full black and white cattle skin battle regalia. A small bloke was in the front stirring up the 'warriors' who would bang their shields with sticks in unison as well as lift each bare foot and bang it again in unison with such force that the ground vibrated. I believe that some of the Zulu 'warriors' were also in a music group (possibly Ladysmith Black Mambazo) as my Dad mentioned that one of the plant workers had got back from a performance for the Queen in London.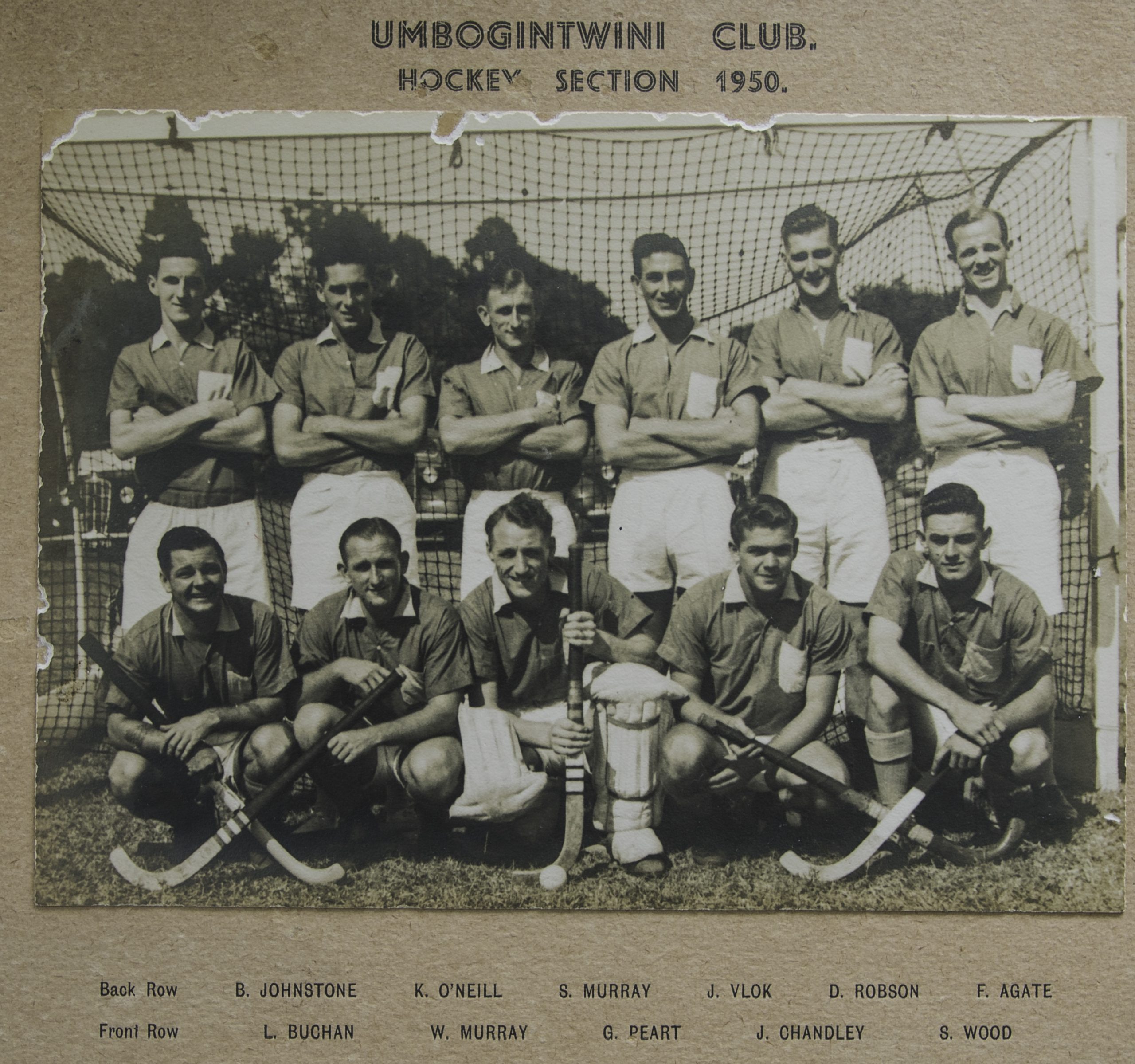 Reference: Rodney Buchan Collection
Informal soccer and cricket was also played on the field when word got around that a game was on.  Formal soccer was also played at the field by the Twini Park Football Club before the senior and junior teams moved to the Dickens Road field. Jimmy was the goalkeeper and manager of the senior team as I recall with others including Woody, Ronnie, Ian and others. The juniors or 'lighties' were later very successfully trained Mr Crawford (after his family arrived from Zambia) with Roy, Mark and others playing to quite a high standard. Those were the days when soccer supporters were fanatically split down the middle between Durban City and Durban United. An undated reference in "A History of Amanzimtoti" also states that S. Inggs of Twini School set a new record of 12.7 seconds for the under 12 boys 100 yards race at the interschools at the sports field. The sports field was a good spot to fly kites in kite season.